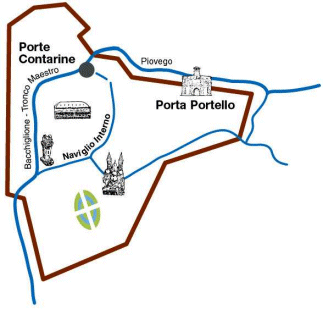 Download the movie ( 5 MB )
Inside its walls, Padua was crossed by a pleasant and very busy "
Naviglio Interno"
(inland waterways). All trade traffics entering the south of the town, from the
Bassa Padovana
area, Vicenza and the
Euganean Hills
, passed through the city, under its old bridges, along its winding Rivieras, crossed the
Porte Contarine Lock
, in the defending wall of the old town centre and passed into the Piovego canal to reach the
Brenta river
, Venice and the sea; navigating the Naviglio Interno upwards nobles and patricians reached their estates and castles in the Euganean Riviera.
Althought the Naviglio Interno is no longer practicable (this due to the covering up in the '50), a suggestive cruise can still be made along the Piovego canal up to the surviving inner waterways of the town, coasting the renaissance walls, built by the Venetians after the attack of Massimiliano from Austria in 1509, when during the Cambrai War Padova was attacked and besieged by the imperial troops. The town was immediately freed, but the fear of other possible enemies led the Venetian Senate to provide a total re-make of the defending walls. Started in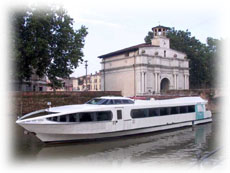 1513 under the rule of Bartolomeo D'Alviano, Captain of the Serenissima Republic and was continued by Michele Sanmicheli and completed in 1544.
The defending system was pretty strong: 12 kilometres of walls and ramparts, a marvellous example of military achitecture. According to the contemporaries the town was inexpugnable.
From
Portello Nuovo Bastion
you reach the old river harbour of
Porta Portello
, also known as "Venezia Gate" or "Ognissanti Gate". This used to be one of the most popular and cheerful areas of Padua, where boatmen, "cavallanti" and "beccai" met (they were famous for the fight with the students).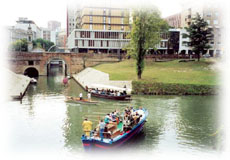 It was planned in 1518 by Guglielmo Grizi called the "bergamasco" (from Bergamo) and it was thought to have a representative meaning more then a military purpose.
From the outside, made of a special stone from Istria, it reminds of a triumphal arch. It has eight columns and on top a small tower with a clock.
Canaletto
made a picture of Porta Portello with its beautiful sixteenth-century stairs.
Beyond the bridge there is the Shrine of Santa Maria of the boatmen- 1790- where boatmen attended the Mass before boarding their barges.
The flight of stairs
was built in 1534 by the Podestà Pietro Lando and the Captain Marco Barbarigo.
Paduans waited on the stairs to welcome the Venetian Provveditori and the important people visiting them.
In the past, boats navigating rivers and canals linked Padua to its surroundings and to the Venetian lagoon.
Continuing along the sixteenth-century Venetian walls, past the University campus, boats reach the
former-slaughterhouse
, a nine-teenth- century work by Giuseppe Jappelli and then, the Gardens of the
Roman Arena
with the famous
Scrovegni Chapel
painted by Giotto, and the Eremitani Church with works of Mantegna.